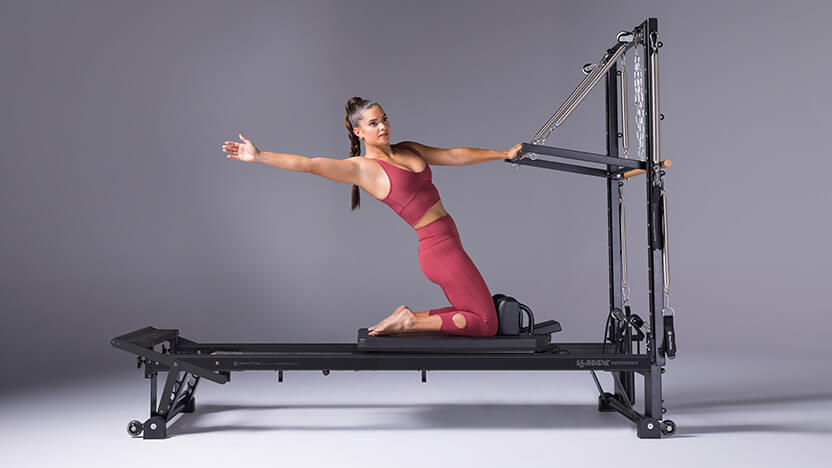 What is merrithew reformer pilates?
Merrithew Reformer Pilates are a popular and highly regarded piece of equipment used in the practice of Pilates. Developed by Lindsay and Moira Merrithew, the Merrithew Reformer Pilates offer a comprehensive and versatile approach to Pilates training, providing practitioners with a wide range of exercises and variations to enhance strength, flexibility, and overall body conditioning.
Reformer Pilates, in general, is a form of exercise that utilizes a specialized machine called a reformer. The reformer consists of a sliding carriage that moves along a set of rails, a series of springs that provide resistance, adjustable footbars and straps, and other components to support a variety of exercises. The resistance provided by the springs can be adjusted to suit the individual's needs and goals, making it suitable for all fitness levels and abilities.
Merrithew Reformers are known for their high-quality construction, attention to detail, and innovative design. They are engineered to provide smooth and fluid movement, ensuring a seamless Pilates experience. The machines are highly adjustable, allowing for customization according to the individual's body type and range of motion. This adaptability makes them suitable for people of different heights, sizes, and fitness levels.
One of the distinguishing features of Merrithew Reformers is the use of the patented retractable rope system. This unique feature allows for a wider range of exercises and movement patterns by incorporating arm and leg work into the routine. The ropes can be adjusted to different lengths and positions, providing additional resistance and support for various Pilates exercises. This versatility adds an extra dimension to the workout, enabling practitioners to target different muscle groups and achieve a more balanced and challenging session.
The Benefit of Using Merrithew Reformer Pilates
Merrithew Reformers are often used in professional Pilates studios, fitness centers, and rehabilitation facilities. They are favored by Pilates instructors and practitioners worldwide due to their durability, safety features, and ability to accommodate a wide variety of exercises. The machines are designed to promote proper alignment and body mechanics, helping individuals improve their posture, core strength, stability, and overall body awareness.
When practicing Pilates on a Merrithew Reformer, individuals can perform a multitude of exercises, including leg presses, lunges, abdominal work, arm exercises, and more. The equipment allows for smooth and controlled movements, emphasizing precision, control, and concentration – key principles of Pilates. The resistance provided by the springs challenges the muscles and promotes muscle tone and strength without putting excessive stress on the joints.
Overall, Merrithew Reformers offer a comprehensive and effective approach to Pilates training. With their thoughtful design, versatility, and focus on proper body mechanics, they provide a platform for practitioners to improve their overall fitness, flexibility, and strength. Whether you are a beginner or an experienced Pilates enthusiast, the Merrithew Reformers can enhance your Pilates practice and help you achieve your health and wellness goals.
Want to find all kind of Merrithew Reformer Pilates products from F1-Recreation? Click here for more info. You may also contact us at 03-7890 5618 / 03-5102 9988 or email us at info@f1-recreation.com.my.
Share