This pneumatic compression system makes it easy for anybody to experience the benefits of our clinically-proven recovery technology. Sit back, relax, and recover faster as each boot compresses the leg to increase circulation and reduce soreness and fatigue. Unlike other devices, Therabody RecoveryAir reaches the optimal point for a full and rapid pressure release every 60 seconds–making it 2-3x more efficient than other devices.
It's also easy to clean with its 4 internal overlapping chambers. Discover RecoveryAir; faster, safer, more effective.
Therabody RecoveryAir Key Features : 
● Maximize circulation – Our 'true' negative gradient of pressure travels up the limb from the foot to the thigh in 4 internal overlapping chambers. This safely maximizes circulation vs. other designs that can interrupt air flow.
● Recover faster – By detecting a full inflation based on precise pressure, RecoveryAir's high-performance compressor reaches the optimal point for a full and rapid pressure release 2-3x faster than competitors.
● Safely control pressure – In order to prevent dangerous over constriction, our system lets you set your session to precise units of pressure and monitor it according to the size of the limb being treated.
● Experience more effective compression – RecoveryAir gives a fuller, more complete cycle of compression and release in only 60 seconds. Flush out metabolic waste more effectively and allow fresh, oxygenated blood to return to the limb faster.
● Clean easily and avoid buildup – Our 4 hidden overlapping chambers avoid the bacteria and moisture that can often build up. This design provides a hygienic, easy-to-clean surface on the interior of the boot.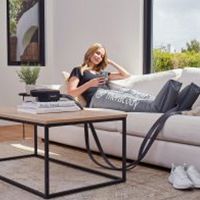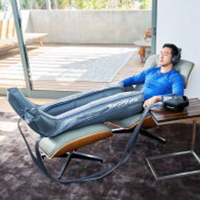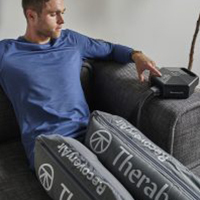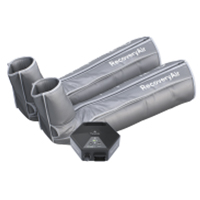 Features 
Total control of your recovery
● 15 cycles in 15 minutes (2-3x faster than average)
● Precise pressure control (20-100 mmHg)
● 4 hygienic internal overlapping chambers
● 360 minutes of battery life
What's Included
● RecoveryAir Pneumatic Device
● Compression Boots
● Blocker plug
● DC power adaptor
Pneumatic Device
● Specs: 8.2 in (L) x 7.8 in (W) x 3.5 in (H) | 2.2 lbs
● Precision: Adjustable Range (20-100 mmHg) in increments of 5 mmHg
● Gradient Type: Full Negative
● Decompression: Full and Rapid Release
● Cycle Time: 60 second full flush (2-3x the speed of competitors)
● Material: Medical-grade coated fabric
Share